RECREATION & COMMUNITY SERVICES
Creating community through people, parks and programs!
The Recreation & Community Services Department provides space and opportunities to learn, play, create and imagine! How? We offer classes, trips, workshops, camps, and special events for all ages.
LOS ALTOS PARKS AND RECREATION FACILITY RENTALS
Recreation & Community Services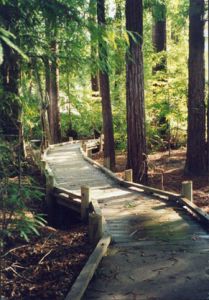 Administration Office
Hillview Community Center
97 Hillview Avenue, Los Altos
(650) 947-2790
Email: info@losaltosrecreation.org
www.losaltosrecreation.org
The Recreation & Community Services Department staff will help you locate the perfect setting for your wedding receptions, family gatherings, special events, conferences, performances, vendor fairs, or meetings.  Park picnic tables and barbecues are available for use on a first-come, first-served basis. However, the Patriot Corner Group Picnic Area in Shoup Park may be reserved in advance.
HILLVIEW COMMUNITY CENTER AND PARK
97 Hillview Avenue
The center hosts many Recreation & Community Services offerings including classes in art, dance, fitness, cooking, music, and more.  The 8.3 acre site includes the "Whistlestop" playground, par course, Little League baseball diamond, soccer field, Bus Barn Theater, Los Altos History Museum, Gilbert Smith History House, Los Altos Senior Program, and the administrative offices of the Recreation & Community Services Department. Available rental facilities include a multi-purpose room with kitchen facility, social hall, conference room, classroom/meeting rooms and two bocce ball courts.  All of these facilities are available for birthday celebration rentals.
LOS ALTOS YOUTH CENTER (LAYC)
1 North San Antonio Road
Centered amongst the historic Apricot Orchard in the Civic Center complex, LAYC offers rental space and is the location for many Recreation & Community Services programs and classes.
GRANT PARK
1570 Holt Avenue
This 4.5-acre park offers an outdoor basketball court, pathways, a large multi-purpose turf, playground area, picnic tables, individual barbecues and public restrooms. Also home to the Los Altos Senior Program's newest location. Meeting/class rooms and a multi-purpose room with kitchen facilities are available to rent.
HERITAGE OAKS PARK
Corner of Portland and Miramonte Ave.
5.3 acres include play areas for preschoolers and elementary school age children, large grass area, picnic tables, barbecue pits and public restrooms.
LINCOLN PARK
4.4-acres of lawn bounded by Foothill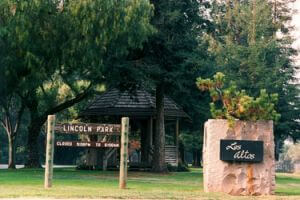 Expressway, Lincoln, University, and Edith Avenues. The large strip offers a gazebo and various public art pieces including "Bird," "Imagine That," Musical Gambol," and "Space Dance for Peace."
MARYMEADE PARK
Fremont Avenue at Grant Road
Attractions include three lighted tennis courts, playground, picnic tables, barbecue pits and large grass area. The 2.5–acre park includes public restrooms. Access to parking is off Fremont Ave.
MCKENZIE PARK
707 Fremont Avenue
The 4.3-acres park offers two lighted tennis courts, children's play areas, picnic tables, public restrooms, barbecue pits and a large grass area. Showcased in the park is the "Pax Nova" sculpture. Access to parking is off Fremont Ave.
MONTCLAIRE PARK
1160 St. Joseph Avenue
Located adjacent to Montclaire School, the 1.1-acre park has two tennis courts, picnic tables, barbecue pits and a preschool play area. (The adjacent school property – a separate entity from Los Altos Recreation & Community Services Department - has a large grass area for softball or soccer and a par course fitness trail.)
REDWOOD GROVE NATURE PRESERVE
482 University Avenue
A 5.9-acre nature preserve, the park includes picnic tables, a boardwalk, observation decks and a hillside trail that follows Adobe Creek among the majestic redwood trees. Visitor parking is available on University Avenue.
ROSITA PARK
401 Rosita Avenue
Completely renovated in 2012, this 6.4-acre park features a full-sized baseball diamond and soccer fields for youth and adult sports, three tennis courts, children's play area, picnic tables, concessions stand, and restrooms. On-site parking is available.
SHOUP PARK - GARDEN HOUSE AND PATRIOT CORNER PICNIC AREA, ND THE UNDERGROUND TEEN CENTER
400 University Avenue
Adobe Creek forms the backdrop for Shoup Park, which includes picnic tables, barbecue pits, turf areas, playground, parking, and public restrooms. The 3.9-acre park is the home of The Underground Teen Center. Available rental facilities include the Garden House and Patriot Corner Group Picnic area.  Youth (11-18) celebrating birthdays may also rent The Underground for their celebration.
VILLAGE PARK
Corner of Edith Ave. and San Antonio Road
This small passive park of .78 acres offers paths, benches and quiet spots for seeking respite. Showcased in the park is the "Olympic Wannabes" sculpture, by internationally known sculptor Glenna Goodacre.  Limited parking is available off of Edith Ave.
ATHLETIC FACILITY RESERVATIONS
Facilities include: Hillview Park soccer field, youth baseball diamond, and bocce ball courts; Grant Park soccer field; Rosita Park soccer and baseball fields; tennis courts located at Marymeade, McKenzie, Montclaire, and Rosita Parks; and Egan and Blach Middle School gyms. For information and reservations, please contact the Recreation & Community Services Department at (650) 947-2790 or email pford@losaltosca.gov
LOS ALTOS HILLS PARKS AND RECREATION DEPARTMENT 
26379 Fremont Road
Los Altos Hills
(650) 947-2518
www.losaltoshills.ca.gov/201/parks-and-recreation
Get Social!
Facebook: https://www.facebook.com/TownofLosAltosHills
Twitter: https://twitter.com/LAHParksnRec
Instagram: https://instagram.com/lahparksandrec/
PURISSIMA PARK
Purissima Park is home to the Los Altos Hill Parks & Recreation Department, the Los Altos Hills Horseman's Association and the Los Altos Hills/Los Altos Little League. The Town Riding Arena and the baseball fields are eligible for reservation. To reserve these facilities, please call the Parks and Recreation Department at 650-947-2518.
LOS ALTOS HILLS PATHWAYS SYSTEM
A very special feature of Los Altos Hills is the Pathways System. Ninety miles of roadside and off-road paths meander through the hills and valley of the Town, connecting various areas of the community. The system has been designed over many years to provide non-vehicular access to the Town for walkers, runners, bicyclists and equestrians. Maps of the Pathways System are available at Town Hall for $4.
Byrne Preserve
LLocated along the upper length of Altamont Road and connected to the Los Altos Hills Pathway System, the Byrne Preserve consists of 88 acres of open space adjacent to the Westwind Community Barn. It serves as a pasture for horses and as the site for the Hoppin' Hounds Easter Egg Hunt, the Pathways Run/Walk and other activities.
Westwind Community Barn
Historic Westwind Community Barn is owned and operated by the Town of Los Altos Hills. The facility sits on 15 acres and is adjacent to the Byrne Preserve.  In 2009, Westwind Community Barn underwent extensive renovations, making it a state-of-the-art horse boarding and training facility.
Boarding
Boarders at Westwind Community Barn have access to facilities that are maintained daily to a high quality standard. Boarding is open to the public and options include stalls, paddocks, and pasture.
Year Round Riding Program
Victoria Dye Equestrian at Westwind Barn offers lessons to adults and children ages 5 and older throughout the year. Private, semi-private, and group lessons are offered Tuesday-Sunday. All students- from beginners to advanced riders- learn grooming, horse handling, and riding skills in lessons. To learn more about our fun and educational horseback riding program, email ridewithVDE@gmail.com or call 650-691-5276.
Westwind 4-H Riding Program
Westwind 4-H began its program of providing horse riding lessons to children with physical handicaps in October 1978. Westwind 4-H is operated through the Santa Clara County 4-H, which is part of the University of California Youth Development Program. For more information, call 650-947-8680 or visit the 4-H website at www.westwind4h.org.
The Midpeninsula Regional Open Space District is a regional greenbelt system in the San Francisco Bay Area. It is comprised of over 60,000 acres of land in 26 open space preserves protected for public enjoyment, making a preserve system of diverse and unparalleled beauty in one of the largest metropolitan areas in the country. Maps are available from the MROSD at (650) 691-1200 or on-line at www.openspace.org.
HIDDEN VILLA
Hidden Villa's mission is to inspire a just and sustainable future through our programs, land, and legacy. This 1600 acres of open space in the foothills of the Santa Cruz Mountains, was purchased in 1924 by Frank and Josephine Duveneck, who used the land as more than their family home, but also as a gathering place for discussion, reflection, and incubation of social reform. Since being incorporated as an educational nonprofit in 1960, Hidden Villa has been providing opportunities for people to learn about themselves, each other, and the interconnectedness of all living things. For more information about Hidden Villa's programs, please visit www.hiddenvilla.org or call (650) 949-8650.
DEER HOLLOW FARM
Deer Hollow Farm, a 160 year-old historical farm located in Rancho San Antonio Open Space Preserve, is an environmental educational center serving 100,000 Silicon Valley residents and 5,000 students on field trips each year. The public and school children observe and participate in an historic working farm. In the tradition of a working homestead, the Farm produces food on-site, such as fresh eggs and seasonal produce which are for sale when available. The barnyard with its 100 farm animals (cows, pigs, sheep, goats, ducks, geese, chickens, and rabbits) and large organic garden is open for free every day from 8 am to 4 pm except Wednesday afternoons and all day Monday when it is closed. For more information, visit: www.deerhollowfarmfriends.org or call (650) 903-6430.
PUBLIC GOLF COURSES
BLACKBERRY FARM GOLF COURSE
22100 Stevens Creek Blvd.
Cupertino  (408) 253-9200
DEEP CLIFF GOLF COURSE 
10700 Clubhouse Lane, Cupertino
(408) 253-5357
PALO ALTO GOLF COURSE
1875 Embarcadero Rd., Palo Alto
(650) 856-0881
SHORELINE GOLF LINKS
2940 N. Shoreline Blvd., Mountain View
(650) 903-4653
HORSEBACK RIDING
FREMONT HILLS Country Club
12889 Viscaino Place, Los Altos Hills
(650) 948-8261 (Riding instruction, training)
SPRING DOWN EQUESTRIAN CENTER
725 Portola Rd., Portola Valley
(650) 851-1114 (Lessons, training, boarding)
WEBB RANCH
2720 Alpine Rd., Portola Valley
(650) 854-7755 (Lessons, group rides and boarding)
WESTWIND COMMUNITY BARN
27210 Altamont Road, Los Altos Hills
Boarding: (650) 941-6113
Lessons: (650) 691-5276
4-H Riding Program: (650) 947-8689